Sue's weekly highlights
28/4/17
Mutiny on the Bounty, 225 Years Ago
When William Bligh drifted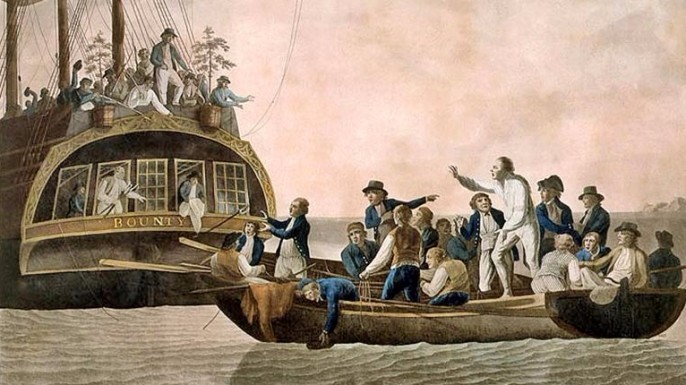 off to sleep on April 27, 1789, the commander of HMS Bounty thought his voyage had thus far "advanced in a course of uninterrupted prosperity, and had been attended with many circumstances equally pleasing and satisfactory." Within hours, however, that would all change as plans were already afoot for history's most famous mutiny.
As its commander slept, HMS Bounty sliced through the South Pacific laden with cargo vital to the economic interests of the British Empire—not gold or silver, but hundreds of potted breadfruit saplings. These young trees native to Tahiti held the promise of prosperity for plantation owners in the British West Indies who believed the fruit they would yield, which had the texture and smell of freshly baked bread when cooked, would be a cheap, highly nutritious "energy food" to fuel the slaves toiling in their fields. English botanist and naturalist Joseph Banks commissioned Bligh for the Royal Navy's unusual mission, which departed England in December 1787 bound for Tahiti.
Although only 33 years old, Bligh was a salty veteran with a sharp tongue who had sailed the world with Captain James Cook. Among his 45 men was the friendly, familiar face of master's mate Fletcher Christian with whom he had sailed twice before.
After an arduous 10-month journey, HMS Bounty arrived in Tahiti, an island paradise of beautiful scenery and beautiful women. Bligh described it as "the finest island in the world," but the commander started to stew as he unexpectedly spent week after week in Tahiti waiting for the newly potted saplings to take root. As his men relaxed, Bligh grew tense at the breakdown of his crew's discipline in a land "where the allurements of dissipation are beyond anything that can be conceived." Already prone to outbursts of temper, Bligh increasingly lashed out at his men—in particular Christian, who had adopted the islanders' dress and fallen in love with a Tahitian woman. Although the commander used flogging less often than most captains, he increasingly employed physical punishment on his crew.
Bounty finally departed Tahiti with its bounty of breadfruit saplings on April 4, 1789. With Bounty's stern converted into a floating greenhouse of potted plants, the small ship was more cramped than ever, and the dark, smelly surroundings must have seemed ever harsher after the hedonistic stay in Tahiti. Although Bligh had promoted Christian to acting lieutenant during the voyage, the men's relationship continued to deteriorate at sea. Fed up with the commander's imperiousness and insults, Christian could take no more of it.
Before dawn broke on April 28, whispers floated in the salty air and light footsteps creaked the floors. Armed with a cutlass, Christian crept into Bligh's darkened cabin along with three others who pointed muskets and bayonets at the ship's commander. The mutineers tied Bligh's hands tightly behind his back and ordered him and 17 of his loyal crew into one of the small open boats on the deck and launched the tiny 23-foot vessel into the water.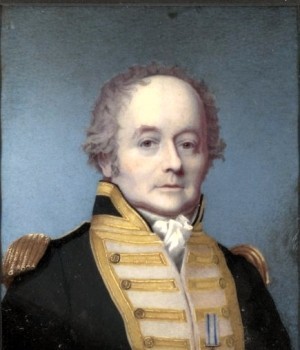 As the sun rose, Bligh scanned the vast blue nothingness that surrounded him. Finally spotting steam rising over the horizon, the outcasts landed on an island to harvest supplies. After receiving a hostile reception from the islanders that claimed the life of one of his crew, Bligh decided their best chance for survival was to sail 3,600 miles to the closest European settlement in Timor. The wet, tired crew parceled out their meager supplies—including 28 gallons of water, 150 pounds of bread and 6 quarts of rum—and they were even forced to eat the undigested fish from the stomachs of birds they caught by hand. The harrowing journey took nearly seven weeks, but Bligh, who lacked charts or a compass, successfully commanded the small open boat to safety in Timor. "Our bodies were nothing but skin and bones, our limbs were full of sores, and we were clothed in rags," he reported.
Meanwhile, after the mutiny, Christian had directed Bounty back to Tahiti. Despite the risk of capture by the British, 16 of Bounty's crew (nine mutineers and seven Bligh loyalists who couldn't fit in the launch) chose to remain there. Christian, knowing he would spend the rest of his life a fugitive and never return to England, sought a safer haven and sailed on along with 19 native islanders. After four months at sea, they landed on a two-square-mile rocky outpost 1,000 miles east of Tahiti—Pitcairn Island. The outlaws fashioned tents out of the ship's sail and then stripped and burned Bounty in one of the bays of their island hideout. Christian's new home proved to be anything but an island paradise. Sandy beaches were nonexistent. Fierce winds and storms raked the island. The food intended for West Indian slaves, breadfruit, now became a staple for the marooned sailors. The colony was beset by sickness and violent infighting that took the lives of nearly every mutineer, including Christian, at an early age.
Bligh returned to England in March 1790 with his sensational story. The Royal Navy seized the surviving mutineers in Tahiti and locked them in chains inside a small, dark cell on HMS Pandora to sail back to England. Off the Australian coast, however, Pandora struck the Great Barrier Reef and sank. Four prisoners died in their chains. The 10 who survived stood trial. Four were acquitted, three were pardoned, and three were found guilty and hanged for their crimes.
British authorities searched in vain for Christian and the other outlaws. The secret colony on Pitcairn Island went undetected until an American whaling ship arrived in 1808 to investigate smoke from a cooking fire rising about the island's treetops and found John Adams, the last survivor of the nine mutineers, and a community of women and more than 20 children fathered by the outlaws, including Christian's 18-year-old son. The island founded by fugitives from the Royal Navy was incorporated into the British Empire in 1838, and today, fewer than 50 people, nearly all descendants of the mutineers, live on Pitcairn Island.
Bligh faced a court-martial in England over Bounty's loss, but he was acquitted in October 1790. Banks again sent him to Tahiti on a second mission to retrieve breadfruit saplings, and this time Bligh successfully delivered the goods. The mutiny appeared to have done little to change Bligh's acerbic leadership style, however. In 1808, troops who chafed at his command deposed him as governor of the Australian state of New South Wales in an armed takeover known as the "Rum Rebellion."
31st March

Favorite stories for children come from all sorts of authors, but one author that still thrills our young is Fairy tale author Hans Christian Andersen (1805-1875) was born April in Odense, Denmark. He created 168 fairy tales for children including the classics The Princess and the Pea, The Snow Queen and The Nightingale. On U-tube there are countless examples of his work. Below is the Andersen's Fairy Tales - FULL Audio Book - by Hans Christian Andersen.
10th March

International Women's Day (March 8) is a global day celebrating the social, economic, cultural and political achievements of women. International Women's Day (IWD) has been observed since in the early 1900's.
It is very difficult to pick out women in history that have had an impact on our present day lives. There are so many!
Just a brief word about a few that the children in school may have spoke about in their class work.
Florence Nightingale (1820–1910) British nurse. By serving in the Crimean war, Florence Nightingale was instrumental in changing the role and perception of the nursing profession. Her dedicated service won widespread admiration and led to a significant improvement in the treatment of wounded soldiers.
Queen Victoria (1819–1901) British Queen. Presiding over one of the largest empires ever seen, Queen Victoria was the head of state from 1837 – 1901. Queen Victoria sought to gain an influence in British politics whilst remaining aloof from party politics. She came to symbolise a whole era of Victorian values.
Marie Curie (1867–1934) Polish/French scientist. Curie was the first woman to receive the Nobel Prize and the first person to win the Nobel Prize for two separate categories. Her first award was for research into radioactivity (Physics, 1903). Her second Nobel prize was for Chemistry in 1911. A few years later she also helped develop the first X-ray machines.
Mother Teresa (1910–1997) Albanian nun and charity worker. Devoting her life to the service of the poor and dispossessed Mother Teresa became a global icon for selfless service to others. Through her Missionary of Charities organisation, she personally cared for thousands of sick and dying people in Calcutta. She was awarded the Nobel Peace prize in 1979.
Cleopatra (69 BCE–30 BCE) The last Ptolemaic ruler of Egypt. Cleopatra sought to defend Egypt from the expanding Roman Empire. In doing so she formed relationships with two of Rome's most powerful leaders, Marc Anthony and Julius Caesar.
Boudicca (1st Century CE) Boudicca was an inspirational leader of the Britons. She led several tribes in revolt against the Roman occupation. Initially successful, her army of 100,000 sacked Colchester and then London. Her army was later defeated.
3rd March
St Piran's Day - held 5th March

St Piran's Day started as one of the many tinners holidays observed by the tin miners of Cornwall.
St. Piran's Day was said to be a favourite holiday with the tinners.
There is little description of specific traditions associated with this day apart from the consumption of alcohol and food during 'Perrantide', the week leading up to 5 March. The day following the St Piran's Day was known by many as 'Mazey Day', a term which has now been adopted by the revived Golowan festival in Penzance.
With the days stretching out before us, it reminds me of the wonderful county that we are lucky enough to live in. Cornwall is a beautiful county and it has so much history. Couple of things came to my mind this week.
Richard Trevithick built the first ever steam engine – it first ran in Camborne on Christmas Eve 1801.

The 'giant of steam' in more senses than one – he was a big man and a formidable wrestler – he grew up near Redruth. As a schoolboy, his ability to solve sums rapidly using the 'wrong' methods irritated his schoolmaster, who thought far more slowly, and he soon followed his father as a mine engineer. Well worth looking him up and finding out more about him.
The most painted scene in Cornwall is the view of St Michael's Mount.


Stroll across the granite causeway where a legendary giant once walked!
and, Cornwall's Motto is 'One and All'.
February 14th - Valentines Day
Tajmahal is one the Seven Wonders of the World and also known as the symbol of Love
Romance History.. Shah J
Emperor of India from 1628 to 1658, Shah Jahan has gone down in history for commissioning one of history's most spectacular buildings, the Taj Mahal, in honor of his much beloved wife. Born Prince Khurram, the fifth son of the Emperor Jahangir of India, he became his father's favored son after leading several successful military campaigns to consolidate his family's empire. As a special honor, Jahangir gave him the title of Shah Jahan, or "King of the World." After his father's death in 1627, Shah Jahan won power after a struggle with his brothers, crowning himself emperor at Agra in 1628. At his side was Mumtaz Mahal, or "Chosen One of the Palace," Shah Jahan's wife since 1612 and the favorite of his three queens. In 1631, Mumtaz died after giving birth to the couple's 14th child. Legend has it that with her dying breaths, she asked her husband to promise to build the world's most beautiful mausoleum for her. Six months after her death, the deeply grieving emperor ordered construction to begin. Set across the Jamuna River from the royal palace in Agra, the white marble fade of the Taj Mahal reflects differing hues of light throughout the day, glowing pink at sunrise and pearly white in the moonlight. At its center, surrounded by delicate screens filtering light, lies the cenotaph, or coffin, containing the remains of the Shah's beloved queen.
8 Mysterious facts about Taj Mahal.
1. Calligraphy
There are 99 names of Allah written on the interior and exterior of Taj Mahal with beautiful calligraphy. People from all over the world admire this calligraphy and architecture of Taj Mahal. The beauty of this calligraphy is breath taking.
2. Changing colors
Only a few people know that with the different sun light, Taj Mahal changes beautiful colors. These colors add to the incomparable beauty of Taj Mahal.
3. 32 Million Indian Rupees 300 years Ago
It took 22000 workers and around 32 million rupees in the construction of Taj Mahal. More than 1000 elephants were used to carry the marbles for this monument. It took almost 17 years to complete the construction. Some of the precious gems were taken away by the Britishers during the 1857 rebellion.
4. The Four Minarets
Taj Mahal has four minarets, which are slightly tilted. The reason behind this is the prevention against earthquake. It might have been built a long way back but the strategies were wise.
5. Secret passages
It is said that there are secret rooms and passages inside Taj Mahal. These rooms have been sealed since the time of Shah Jahan. Even now these are sealed by the government.
6. Stream of water
There is a small stream of water inside the monument. It is believed that the source of this stream is still unknown.
7. Perfectly symmetrical
The Tajmahal is perfectly symmetrical. Its minarets, walls, rooms and even gardens follow a perfect symmetry. Only the tombs of Shah Jahan and Mumtaz Mahal are not symmetrical. The tomb of Shah Jahan is slightly elevated and larger than that of his wife.
8. Religious conflicts
Many religious conflicts surround this popular historical monument, known as the epitome of Love all over the world. People come from far away places to admire the beauty of Taj Mahal.
February 1, 2003 - What would you tell seven astronauts if you knew their space shuttle was crippled on orbit?
It was a question that faced NASA's Mission Control considered after initial suspicions that something might be wrong with the shuttle Columbia as it was making its doomed reentry in 2003.
Wayne Hale, who later became space shuttle program manager, struggled with this question after the deaths of the Columbia crew. Recently he wrote about the debate in his blog, recalling a meeting to discuss the dilemma: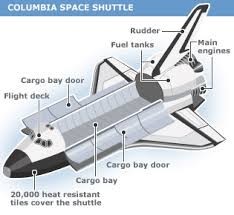 Website giving more of this story with videos
Sixteen minutes before it was scheduled to land, the Space Shuttle Columbia broke apart in flight over west Texas, killing all seven crew members. The accident may have resulted from damage caused during lift-off when a piece of insulating foam from the external fuel tank broke off, piercing a hole in the shuttle's left wing that allowed hot gases to penetrate the wing upon re-entry into the Earth's atmosphere. This was the second space shuttle lost in flight. In January 1986, Challenger exploded during lift-off.
All seven on board - David Brown, Rick Husband, Laurel Clark, Kalpana Chawla, Michael Anderson, William McCool and Ilan Ramon - were known to be dead within minutes.
Following the crash, low-level engineers at Johnson Space Center revealed that they had tried to alert NASA senior staff about problems with the shuttle.
The investigation into the Columbia disaster revealed that a piece of foam the size of a briefcase was the physical cause of the accident. It had smashed into the shuttle's wing during take-off and left a hole in the protective tiles, leaving the shuttle vulnerable on re-entry.
THE Village That Collapsed Into The Sea.
26th January 1917
On a stormy night in January 1917, the Devon fishing village of Hallsands collapsed into the sea. The entire village was destroyed together with the livelihoods of its people.
For decades the fishing village of Hallsands and its stunning coastline had been at the mercy of the forces of nature.
But it wasn't nature that led to the dozens of homes being washed into the sea on a fateful night in January 1917.
It was the foolishness of man that obliterated this small Devon village forever.
For more of this story click here. Hallsands - the buried village .
History in the Making (USA)
The new president will be sworn Today January 20, 2017
The tycoon-turned-politician will deliver his inaugural address to hundreds of thousands of people gathered in Washington DC and millions watching around the world this afternoon.
He will replace Barack Obama in the White House, but not before a ceremony that dates back to George Washington.
Meaning of inauguration (noun)
the beginning or introduction of a system, policy, or period.
"the inauguration of an independent prosecution service"
the formal admission of someone to office.
"the President's inauguration"
a ceremony to mark the beginning or introduction of something.
January 6th. 1540 Henry VIII of England marries his fourth wife, Anne of Cleves. The marriage will last six months.
Anne of Cleves (German: Anna; 22 September 1515 – 16 July 1557) was Queen of England from 6 January 1540 to 9 July 1540 as the fourth wife of King Henry VIII. The marriage was declared never consummated and, as a result, she was not crowned queen consort. Following the annulment of their marriage, Anne was given a generous settlement by the King, and thereafter referred to as the King's Beloved Sister. She lived to see the coronation of Queen Mary I, outliving the rest of Henry's wives.