Monday 12th September.

It's been a fantastic first full week back. We have been very busy in Class 4. In maths, we began our work on place value where we have achieved our objectives: to read, write and compare numbers up to 10,000,000. Next week we will be focusing on rounding numbers up to 10,000,000, negative numbers and roman numerals.

In English, we developed our assessment techniques by giving helpful, specific and kind feedback to our peers. The children have great positive attitudes to their work and were able to identify what was great about their partners writing. They then chose one aspect that their partner could improve on to make their writing even better. Next week we will be focusing on newspaper recounts linked to our topic. In SPaG, we will focus on fronted adverbials and revise apostrophes. A SPaG area for the website is in the works where there will be definitions and examples of terminology that you may not have come across before!

We began our topic 'What's happening now?' by talking about what a natural disaster is (causes a natural event such as flooding or earthquake that causes great damage and destruction). We looked on a world map and identified areas that natural disasters are more likely to occur in. We then focused on hurricanes - understanding how they are created and what damage they cause by watching reports about the recent Hurricane Irma.

On Thursday, we had a fab day with Class 3 at Plymouth Aquarium taking part in STEMfests Giant Squid Challenge. When we arrived, we went upstairs to a large room to take part in our first activity: designing a squid tank. During this time, we all had a go on a Virtual Reality (VR) headset and got a Polaroid picture as a keepsake. It was the first time some of the children had ever used one before.

Our second activity was perhaps the best part of the day for most. We dissected a squid! Using tweezers and a pair of scissors, we carefully cut up a squid to discover the different parts of it.

Inside the squid was something called a 'pen'. It seemed to be made out of plastic and, when cut out of the squid, was in the shape of a quill. We then cut into the squid's ink sack and wrote with the quill and ink! What an experience it was!

After lunch, we met some surveyors who helped us take measurements of an area where a giant squid tank could go. Funnily enough, the area wasn't big enough for a giant squid!

We then went inside and got to explore the different tanks. The sharks were amazing! A fantastic day was had by all!

Home learning for next week comprises of spellings, maths (negative numbers) and a SPaG mat for English. Please keep reading to get enough reads at home to get a prize from the prize bucket!
6th - 8th September

Hello and welcome back to another exciting school year! I hope you have had a fabulous summer holiday and are feeling refreshed from your break.

It has been fantastic to see our new year fives and sixes this week. I have been amazed at how quickly everyone has settled back in to school life.

This week, we've become more familiar with each other and our daily routines. We have played some exciting maths games which have started to develop our reasoning skills. In English, we have recapped word classes and their definitions. We have also written a recount of our favourite time in the holidays.

Next week in maths we will be focusing on place value up to millions. In English, we will continue our work on recounts by writing a non-fiction newspaper recount based on the current weather fronts in the USA. This will begin our first topic of the year: 'What's happening now?' which links to natural disasters

Spellings will be coming home today and will be tested next Friday. We will be learning the patterns at school, but it would be great for the children to continue their learning at home.

There will also be home learning for English and maths which need to be returned by Thursday 14th September.

Below is a letter that was sent out on Wednesday with some important information about Class 4 this year.

Week beginning 6th September Class Letter
26th - 30th June
The children have been working on Volume. They really enjoyed making the cubes using squared paper, rulers, scissors. Increasing the size from 1cm - 2cm - 3cm - etc.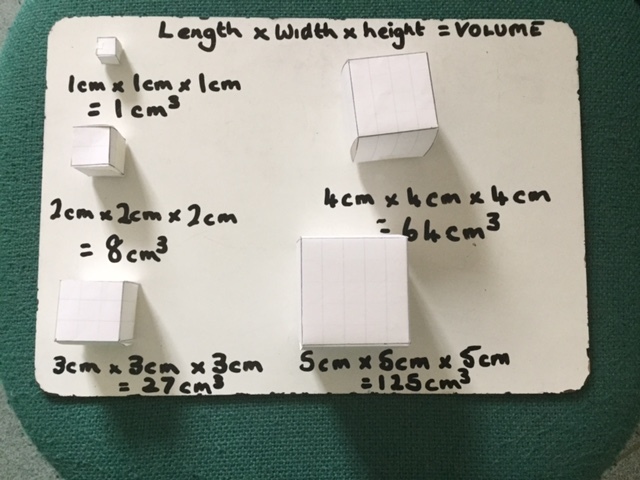 What a wonderful morning Yr5 children had on Wednesday 24th May. Mrs Morris and I (Mrs Chapman) accompanied Yr5 children to Truro Prep School for a morning of Robotics. Greeted by Mrs Jane Ellis we joined the Yr5 children from Truro Prep school. We were proud of Blackwater Yr5's at the way they paired up with other children they did not know and worked together in a new environment. I, Mrs Morris and the staff at Truro school all expressed how much we enjoyed our time together. It is hoped that another joint event will be arranged again next year.
S, Chapman
13th - 17th March

Fraction division by a whole number below.

Animal reports have been produced by class 4 children this week. They have enjoyed searching for the information needed. Finley and I (Mrs Chapman) turned one report into a video report. We first recorded the report as a short video using a green background, then added some pictures using green screen app on an I-pad. Good work Finley.
10th March

27th February and 6th March

It has been a fantastic two weeks in Class 4. We have been very busy with our learning; showing great diligence.

In English, we have looked at two different genres: non-chronological reports and persuasive writing. The children have produced some excellent pieces of writing.

In maths, we have continued to focus on fractions. It has been great to see everyone's confidence grow within this and hear the children's excitement when we mentioned maths. We've particularly been focusing on our reasoning skills within maths where we are trying to explain our answers and reason why that is the answer.

In topic, we have focused upon the life cycles of birds and mammals. Next, we are going compare the similarities and differences between the classification life cycles that we have been learning about this term. Next Thursday, we are going to finish our topic by a visit from Hendra Farm. We will have the opportunity to meet many different creatures (some of which we have been learning about) and possibly handle some.

Home learning for this week is spellings, reading and times tables. Maths focuses upon finding multiples and prime numbers. English focuses upon punctuation for parenthesis.

Have a fantastic weekend!

Parenthesis...

a word or phrase inserted as an explanation or afterthought into a passage which is grammatically complete without it, in writing usually marked off by brackets, dashes, or commas.
24th February

Welcome back for another half-term of lots of hard work. The children have come back from their break raring to go and eager to learn!

In English, we have looked at some new punctuation marks: semi colons, colons and dashes (;, :, -) which we will include in our writing to make it more exciting. We have begun research on our topic, Round and Round (Life cycles), where we are going to collate the information into a non-chronological report. On Tuesday, we had a look at lots of different non-chronological reports to identify the features that are involved. With this knowledge, we are going to write a report about life cycles.

In maths, we have begun a unit on fractions. This week we have focused on equivalent fractions and simplifying fractions. Have a look at the web links if you would like to see the strategies that we have used to find equivalent fractions and simplify fractions. The children have been fantastic in maths this week by having such a resilient attitude towards their learning. It has been great to see everyone develop a 'can do' attitude towards maths.

We are really gripped by our topic: Round and Round. This week, we have been learning about the life cycle of a frog. Because of this, we have some new members of the class. It will be interesting to observe the life cycle up close and gain a first-hand experience of complete metamorphosis. It has been amazing to see how quickly the frogspawn has developed and are wondering how long it will take for the first tadpole to emerge.

Home learning for this week is spellings, reading and times tables. English is a sheet linked to the punctuation we have been learning about this week and maths is linked to equivalent fractions and simplifying fractions on paper.

Have a fab weekend!
February 3rd

BBC Bitesize KS2 English Grammar

There are some great little quizzes and you can up your

game by following KS3 links.

Maybe have a go at the Maths as well.

Example of a quiz
Weeks 9th and 16th January

Over the last two weeks in English we have been focusing on writing narrative stories. Last week we wrote a story titled 'The Night the Bombs Fell.' The children used dialogue to convey their characters to the reader and used some fantastic similes to help the imagery of their story. For example, Daniel used 'the sirens howled like a pack of wolves.' Once their stories were written we completed a peer assessment on someone else's work. We had to read through and identify certain language devices such as used of complex sentences. We then gave two things we liked about the piece of writing and then one piece of advice to improve it.

This week the children utilised the skills they learnt writing their story last week and have written a story independently based on a video called Baboon on the Moon. Our stories are set before Baboon came to the moon and how he came to live there. The children have had some fantastic and original ideas.

In maths, we have been working on our multiplication skills. We have reminded ourselves of the method and how to set out work out clearly. It has been a really fantastic week for learning in maths. Everyone has worked hard to achieve. On Wednesday we had Mr Collinge, who is the maths department leader at Richard Lander, visit our maths lesson to explore year 6s learning in maths. Afterwards he commented at how every child in the room was enthusiastic about their learning and how there was a really positive atmosphere in the classroom.

In topic, we have looked at how light travels in straight lines and is reflected off objects into our eyes.

Baboon on the Moon
W/B Monday 2nd January 2017

Homework Set

Class 4 homework to be completed by 13.01.17.doc

Welcome back and happy New Year! I hope you all had a fantastic Christmas and a good rest. It has been a fab start to the year where we are raring to go and have transitioned back into the school routine with ease. We have already found out so many facts about our new topic 'The Battle of Britain' and are eagerly looking forward to developing more knowledge about this important historical event.

In English, we have begun our topic by reading extracts from different stories based upon WW2 and have identified effective language that the author has used. We are going to use this to help us write our own story next week titled 'The night the bombs fell'.

In Maths, we have been looking at very large numbers extending into the millions. We've developed our knowledge of place value and utilised this when writing large numbers. We have also looked at greater than and less then (>, <) remembering it is like a crocodiles mouth which likes to eat the bigger number. We are now going to be looking at negative numbers and link this to temperature.

In topic, we have spoken about how WW2 came about and identified the counties involved on a map of the world including ally and axis territory (you could ask one of us what this means). We looked at a timeline of the key events in the war and found out the names of the leaders of the main countries involved. We also had a brief introduction to the first two years of the war and discussed Germany invading different countries in Europe. We listened to Winston Churchill's famous speech from 1940 announcing that the Battle of Britain was about to begin. This was when fighting took to the skies. We've also had a bit of fun listening to air sirens and diving under tables for safety when we hear them. We're really looking forward to finding out more in the coming weeks.

Home learning for this week is times tables, reading daily, spellings, and an English worksheets looking at embedded clause. Maths homework can be found on active learn.